The Northeastern Forest Inventory Network Connects People, Data, and Information
Aug. 8th 2023
The Forest Ecosystem Monitoring Cooperative (FEMC) developed the Northeastern Forest Inventory Network(NEFIN) to aggregate and standardize continuous forest inventory (CFI) data from monitoring programs across the northeastern United States. CFI data are used, mostly by state agencies, to monitor forest growth and development over time. The original data and standardized data, as well as information on methods and metadata, are available for users to search, compare, and download from an online tool.
Forest monitoring programs track a variety of metrics, such as tree diameter, crown health, and vigor using different protocols and methods to collect and manage data. The goals across programs may be similar, but the datasets can be difficult to compare to those from other monitoring programs due to differing methods and data organization. FEMC recognizes the value of these datasets to researchers and land managers and the importance of making them easy to access and use. Furthermore, making these datasets comparable enhances researchers' and managers' abilities to assess region-wide forest health trends. To address an interest in comparing data from across the region, FEMC developed NEFIN, a tool that aggregates continuous forest inventory data from eight programs across the Northeast.
"The ability to preserve, discover and share long-term forest inventory efforts across organizations will make it much easier for us to understand how forests are changing and how those changes differ across the landscape," said Jennifer Pontius, FEMC's Principal Investigator and lead in this project.
NEFIN includes data that range from 1960 to the present and combines nearly 20,000 plot observations. The collection catalogs tree species, status, DBH, height, and crown class. Data are categorized in plots with information about trees, saplings, and seedlings differentiated. Additionally, NEFIN allows dataset owners to add new data from ongoing programs, and download existing data from the tool.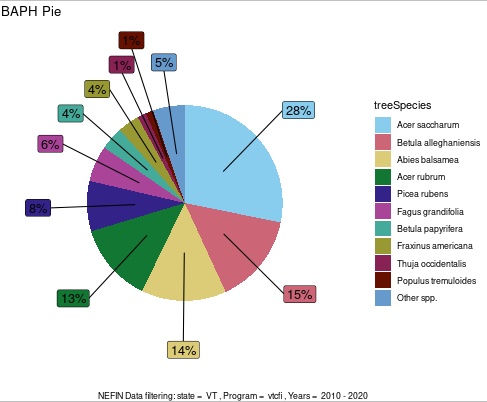 Figure A: Species composition for VTCFI. The Vermont Department of Forests, Parks and Recreation (FPR) Continuous Forest Inventory Across Vermont State-owned Land (VTCFI)
FEMC envisions this being a valuable resource for many organizations across the region. The data can be used to answer research questions, explore and discover regional forest health trends, and inform decisions for management and policy. To enhance the exploration of the data, FEMC created an interactive data visualization page. Users can select datasets, metrics, and visualization types to explore the data to answer broad questions, such as the species composition of plots within a specific program and state (Figure A), or trends in species mortality over the last 20 years for Balsam fir (Figure B).
The visualization tool is designed for quick and exploratory examination of all or subsets of the database but comes with unique limitations. Any trends or visualizations reflect the data collected and input in the database itself—not necessarily true biological trends on the landscape. For instance, as shown in Figure B, although Balsam fir are being shown to have increased mortality over time, this is reflective of the plots within the query, and further investigation would be required to make any further claims.

Figure B: Mortality over time trendline for Balsam fir (Abies balsamea) across all plots in NEFIN
With FEMC serving as a coordinator and administrator, the tool also acts as an opportunity to increase connections between practitioners across administrative and disciplinary boundaries. These interactions encourage the exchange of information and expand collaborations among researchers and land managers to analyze and interpret trends in northeastern forests. Additionally, the standardized data made available can be a helpful guide to developing standard protocols for CFI data collection.
"Between retirements, organizational changes, and funding challenges there is a real need to identify and archive datasets that can provide historical context about the region's forests," explained Pontius. "This tool provides archive, backup, and sharing options for organizations to preserve and collaborate on this important field inventory data that might otherwise be lost.
We encourage users to explore the data visualizations, review the data available for download, and consider contributing to the database with CFI data. A webinar will be presented by FEMC in Fall 2023. If you use the resource or have data you think would be helpful to include, please let us know at femc@uvm.edu. To stay up to date on the activities and opportunities with FEMC, please subscribe to our newsletter.